21.09.2023
Nordic Health Lab partners with Alberta Innovates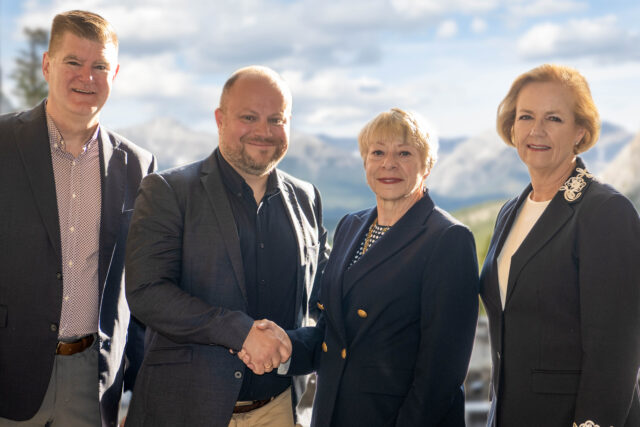 Improving health innovation through Transatlantic collaboration with Denmark
Alberta Innovates and Nordic Health Lab  are joining forces through a memorandum of understanding (MOU) to improve health innovation in both Alberta and Denmark.
The MOU will establish a means to share, collaborate and build a better more vibrant health innovation ecosystem for both Alberta and Denmark. The MOU will accelerate innovation and provide a means for exchanging ideas and best practices. Both agencies will work together to establish, promote, develop, launch, and maintain cooperation and knowledge-transfer related to health sciences. They will share learnings, provide channels for cross-disciplinary collaboration and accelerate ideas into solutions, all while measuring impact and assessing value.
The MOU will be supported by the Royal Danish Embassy in Canada as well as the Canadian Embassy in Denmark.
Pictured (l-r): Tim Murphy, VP Health, Alberta Innovates; Jesper Juel-Helwig, CEO, Nordic Health Lab; Laura Kilcrease, CEO, Alberta Innovates; Anne Snowdon, Vice Chair, Board of Directors, Alberta Innovates.
"Technology is the future of every industry, including healthcare. This collaboration between Alberta Innovates and the Nordic Health Lab is going to accelerate the pace of innovation in Alberta's healthcare system. By working together, we can replicate the success Denmark has had in connecting the best and brightest innovators with the folks on the front lines delivering healthcare, which will mean better healthcare for Albertans.""
Laura Kilcrease, CEO, Alberta Innovates adds:
"Alberta Innovates celebrates the signing of this memorandum of understanding with the Nordic Health Lab. Partnerships like this are critical to making a real difference to healthcare innovation in Alberta. We're excited by the possibilities this partnership brings for Albertans and people around the world."
CEO at Nordic Health Lab, Jesper Juel-Helwig says:
"Collaborating with Alberta Innovates will create the needed climate for advancing the implementation of companies' solutions so they reach the hands of hard-working healthcare professionals while making a difference for citizens in Canada, Denmark and beyond."
About Alberta Innovates

Alberta Innovates manages nearly 1,300 projects in a portfolio valued at $1.33 billion. We work with innovators in all sectors of the economy and all corners of the province to drive entrepreneurship, applied research and industry development. With our impact-based funding programs and services, we are transforming energy systems for a net-zero world, promoting the responsible use of land and water, leveraging provincial strengths in agriculture, and contributing to improved health and well-being by harnessing digital tech and data. We are also advancing emerging technologies and strengthening entrepreneurship for a strong and diversified economy. We operate in 11 locations with more than one million sq. ft. of industrial testing and lab facilities, and 600 acres of farmland. We employ nearly 600 highly skilled scientists, business and technical professionals. From funding to commercialization, we are Alberta's innovation engine!